As soon as I saw my first arcade game, there was one thing I wanted to do: take it home.  I wanted to have my own arcade game so that I could play for free as much as I wanted without people looking over my shoulder.  Okay, I also wanted to have my own arcade game so I could be like Ricky Schroder in Silver Spoons.  There was no way I was going to get one.  I knew that.  But I could get one of the Coleco Mini Arcade games.
Coleco Mini Arcade games were tiny arcade cabinets featuring conversion of the best video games around: Pac-Man, Donkey Kong, Frogger, Galaga, and many more.  They weren't perfect copies, of course.  They were LED conversions.  But to my grade-school eyes, they were close enough.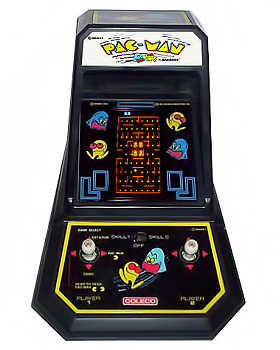 Today, these seem like poor alternatives to arcade games.  The graphics aren't right and the joysticks are just too tiny.  But I thought they were a great home option back in the day, and maybe it is just the quasi-arcade cabinet design, but they still have a lot of charm.